5 Ways to Use Video in Your Social Media Marketing
The age of video is here, and we can no longer say it's an up and coming trend. It's a marketing necessity. A tool that can take mediocre marketing to a compelling, grab-you-by-the-shoulders message. Video is the content your customers are seeking, and the type of content social media platforms give precious newsfeed priority to. You can't ignore video anymore.
The primary concern with video is the sustainability factor. How can a small business be expected to churn out videos on a frequent basis without a big budget? Between the cost, time, and management of production – it seems far out of reach for small businesses. But we're living in a world where everything is recorded on your smart phone. Social media is made for connecting with other people in an authentic way. And that means you don't need a giant production budget to market like a pro.

Types of Videos That Work for Small Business
First, let's look at some of our favorite types of videos that are easy for small businesses to create, sans the big bucks:
Gifs
If you've been living in the modern world, you know what a gif is. It's essentially a short video clip containing either rotating static images, or taken from a longer video. You can get creative using photos to create gifs to promote a product or service. If you've got a Photoshop expert on staff, check out this super easy tutorial on how to create a gif using Photoshop.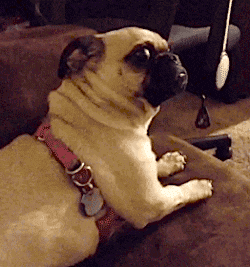 Short Video Clips
At an event? Want to show off one of your cool, new products in a real-life demonstration? Or perhaps you're simply wanting to explain a complex service or product you offer. There are so many reasons to grab your smart phone and start filming!
Live Video
Since the introduction of Periscope and Snapchat, people are wanting to immerse themselves into the world of different perspectives and experiences across the globe in real-time. Live video is perhaps the most authentic you can get – take advantage of it! Live podcasts, events, or other cool topics can be covered with live video. Best part? No editing needed.
Produced Videos
You need at least one video that is professionally created giving potential customers an overview of your company. However, if you do find a great videographer, ask them if they'll cut you a deal to do multiple short videos! If they will, it's time to start digging into what your customers would like to see from you.
So how can you use these videos for your social media marketing? Before we dive into how you can use these videos for your small business, it's important to ask yourself what you're really looking to get from your videos. Are you wanting to generate awareness? Drive more website traffic? Convert sales? Build up anticipation for a new product launch? Or perhaps you want to provide helpful insights or answers to questions frequently asked by your customers. Once you know what you want from your video(s), you're able to start planning how (and where) to best use them:
Campaigns
Campaigns are a series of marketing activities driven to achieve a specific marketing goal. using a specific message. You've seen the hilarious over-the-top Old Spice commercials and Chick-fil-a's cows conspiring against chickens. They've got a single message, and are gunning for a specific goal. For example, Old Spice wanted to reach younger males, but their brand was associated with middle-aged, or older, men. They had to get creative and find a message that resonated with younger males. The use of video was critical in delivering this message, no?
You can use a combination of professional-quality videos for your series, gifs, and phone-recorded videos within the same campaign, as long as it's consistent with your campaign message and brand. Don't be afraid to get creative and push your marketing boundaries!
Promotions and Offers
Video can be used as ads on social media to promote a limited-time offer or sale. Drive traffic to your website to increase website traffic, generate leads, or sales. Or you can use social media ads to get people to visit your storefront or restaurant. Remember: if you're using videos to promote an offer or sale, it's important to keep the video short. Audiences prefer content 15 seconds and under. They'll be more likely to finish the video, rather than exiting a portion of the way through.
Product Spotlights
If you're selling a consumer product, it's absolutely critical to show it off with video! If you sell a service, give potential customers a peek into what they'll get from working with you. The more you have to show off, the more credible your company looks. Wouldn't you rather use a home remodeler who shows off their projects, rather than use a company with little to no proof of their work quality? Exactly.
Q&A / Explanations
 If you're a company who sells services or solutions to other businesses, establishing and nurturing relationships are critical. Being helpful and providing value to other company leaders can be the difference between you and the competition. The greatest asset you have is education. Whether you're a printing company or a software company, it's important to understand your customers' pain points and challenges so you can address them and match them with a solution you provide.
To create a video your customers will actually watch, you need to know what they're looking for. Take the time to talk with your customers. Find out who they are, what they need, and what gets them motivated to buy from you. Create videos around things and topics they care about. If you can create fans, you'll convert customers.
Helpful Read: How to Create User Personas to Boost Your Sales and Marketing